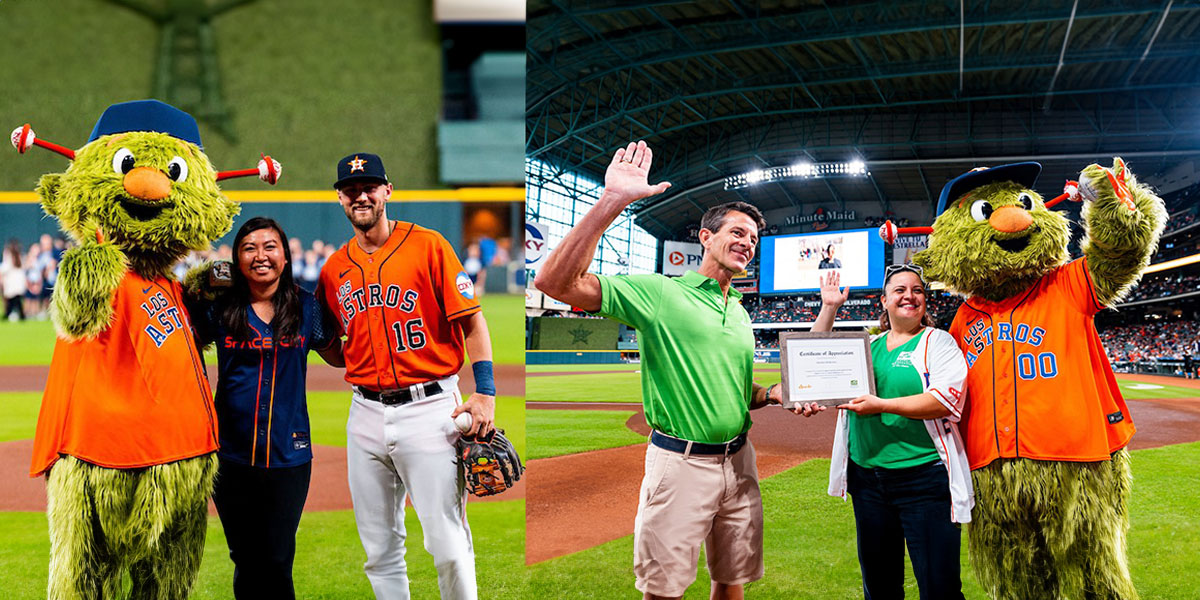 Hundreds of Apache employees gathered together for a Friday night game of homeruns, hotdogs and fun at Minute Maid Park as they cheered for their home team, the Houston Astros. The orange and white 'Stros have evoked a deep sense of community pride in the Bayou City since their World Series win in 2017, lifting the spirits of Houstonians everywhere in the wake of Hurricane Harvey. Six years later, the baseball team has continued to thank loyal fans along its eventful journey, like Apache accountant Mary W. who threw the first pitch of the game as her colleagues and friends cheered for her.
"I'm a big Astros fan, especially of Jose Altuve, so to participate in the game was a thrilling experience for me," said Mary. "I won the opportunity to throw the first pitch after winning our company sustainability bingo game, so I'm grateful to Apache for providing these fun experiences that allow us to make great memories as employees."
Clay Bretches, Apache executive vice president of operations, also joined employees at the game and honored Houston Wilderness, a new partner of the Apache Tree Grant Program.
Houston Wilderness promotes, protects and preserves the muti-county ecoregion around Greater Houston through facilitation of large-scale environmental policy initiatives. On the baseball field, Mr. Bretches presented a plaque to Ana Tapia, senior director of environmental projects at Houston Wilderness, to honor their organization's work as partners and highlight the importance of tree planting to the city.
This year, the tree grant program donated 2,500 trees to their cause, which will help beautify and enhance green spaces along the Houston Ship Channel.
"The Apache Tree Grant Program is integral to our work as responsible environmental stewards, especially in Houston, where we are headquartered," said Bretches. "Without our partners, our tree grant program would not be possible. We are deeply grateful to be able to recognize the hard work of our partners to our community's well-being and sustainability at tonight's game."