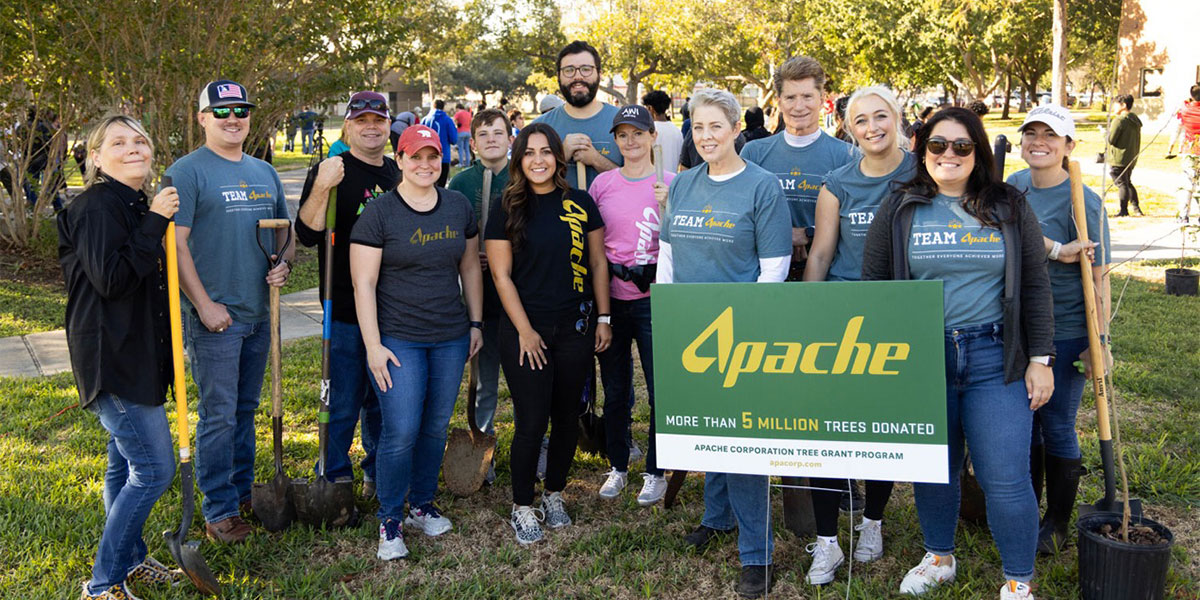 Few things stand the test of time like trees, defiantly growing year after year amid changing seasons, shifting populations and new landscapes. The city of Houston, by contrast, has significantly transformed since its founding almost 190 years ago, evolving into a major hub of international commerce as the energy capital of the world.
Houston Wilderness is a nonprofit alliance founded in 2003 that protects and promotes diverse ecoregions along the Gulf Coast. To preserve the vibrant ecosystems of the city while supporting the pursuit of a more prosperous and sustainable future, it identified a unique opportunity to plant trees near and around the Houston Ship Channel.
"When most people think of the ship channel, trees aren't the first thing that come to mind," said Ana Tapia, Houston Wilderness senior director of environmental projects. "That's exactly why we're doing it. The policy structure of our organization wants this to become a standard so that when companies develop newer infrastructure, they think, 'Okay, we did the pipelines, we did defenses, we did security…now, where do the trees go?'"
Southeast Houston, where the ship channel is located, is heavily industrialized. However, Tapia and the Houston Wilderness team believe that this shouldn't revoke the area's environmental value. Apache employees feel the same way. In fact, the Apache Tree Grant Program donated more than 2,500 trees to Houston Wilderness, 425 of which were planted on Texas Arbor Day this year by Apache employees, several corporate volunteer groups and students from Cesar E. Chavez High School.
"To be able to get outside on a bright Friday morning with my colleagues and make a tangible impact that will last for generations is really special," said Natalie M., senior accountant and co-lead for TEAM Apache, the company's volunteer group. "Donating trees is one good thing, and it's another to actually put them in the ground, particularly at a high school, where students will have the opportunity to look after the trees and learn about their benefits to the local environment."
The trees planted at Chavez, which range from Live Oak to Red Maple, are classified as "super" trees, according to researchers at Rice University. These native tree species provide the highest levels of ecosystem services, specifically addressing carbon absorption and sequestration, air pollution and flood mitigation, erosion control, and urban heat island reduction. According to Houston Wilderness, the trees planted on Texas Arbor Day will contribute to the sequestration of more than 67,000 pounds of carbon dioxide (CO₂) emissions each year, assuming a high survivability rate. This is the annual CO₂ emissions equivalent of nearly seven passenger vehicles.
"Communities in Houston's East End need shade and space for recreation, so to know that companies such as Apache are looking to give back is awesome," Tapia said. "We don't necessarily have the bandwidth to put these trees in the ground, so the support is deeply appreciated."
Learn more about Houston Wilderness and ways to volunteer here.